Published by Cinema Experts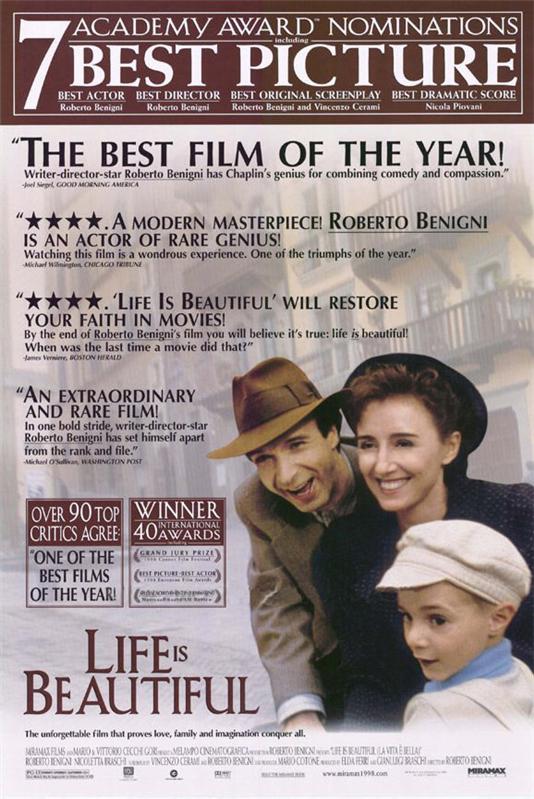 "The game starts now. You have to score one thousand points. If you do that, you take home a tank with a big gun. Each day we will announce the scores from that loudspeaker. The one who has the fewest points will have to wear a sign that says "Jackass" on his back. There are three ways to lose points. One, turning into a big crybaby. Two, telling us you want to see your mommy. Three, saying you're hungry and want something to eat."
Mixing humor and the Holocaust isn't anything new: Ernst Lubitsch's 'To Be Or Not To Be' is just one enduring classic; Mel Brooks' 'The Producers' is another; and 'Life Is Beautiful' has the small-town charm and ambiance of 'Amarcord,' and light-straight satire of 'The Great Dictator.'
Set against the stark reality of World War II Europe, Roberto Benigni's sentimental fable is not a film about the Holocaust, it's a film about life and hope merely against the backdrop of the Holocaust... It's not a denial of the Holocaust, it is a manifestation that humor itself can be courage... It's not about betraying the experience of millions of Jews, it is about the great lengths a father will go to protect his family from the horrors of the Nazis... It's a demonstration of the power of cinema, it's art without claim, hope without fear, dreams without limitations... It's a motion picture about love, not a documentary about the Nazis... It delivers a powerful message that despite everything - life is truly beautiful...
The story begins in 1939 Italy, where a simple, free-spirited Italian Jew Guido Orefice (Benigni) and his poet friend Ferrucio (Sergio Bini Bustic) have dreams of owning their own bookstore. For now, however, Guido must be satisfied to wait tables, while Ferrucio is unable to get a job. Benigni's character is introduced during a long set of fast comedy scenes, particularly when he meets a cute gentile woman, Dora - Nicoletta Braschi: when she 'falls out of the sky,' and he quickly nicknames her 'Principessa', when he rides, in a fascist ball, on a horse painted green, when he turns a gloomy rainy night into a red carpet event, when he is caught by the Nazis as he hurries about securing the safety of his wife and son, when his car speeds, without brakes, through a village and is mistaken for a king...
Guido falls hard for the radiant schoolteacher, daughter of a wealthy family, and pursues her with all the charm and imagination he can discharge: in one sequence, he pretends to be a school inspector and gives an impromptu speech on racial superiority before the assembled students and teachers, ending with a striptease...
That hilarious side of the film takes up the first half. Benigni (who also wrote and directed) borrows a bit of Chaplin's grace and a bit of Groucho Marx charm: all of the action is so neatly contrived that the film essentially ends when it's over, and then begins again with the introduction of Guido and Dora's cute five-year-old son Giosue (Giorgio Cantarini) few years later...
There, in 1945, we catch a glimpse of their enchanting household, but things are soon shattered, and the Nazis take Guido, with his tolerant uncle (Giustino Durano) and little Giosue off to an unidentified concentration camp. Dora races to the train station and demands to be put also on the train...
At the death camp, and in order to protect his son from the nightmare of the place, Guido uses his imagination by creating the illusion that everything that's happening is just a game, an epic game that will be exciting and fun. He convinces Giosue that by hiding from the Gestapo soldiers (whom he refers to simply as the "men who yell a lot") and maintaining silence, he can gain the necessary points to win a tank. Not a toy tank, but a full-size tank, which they'll be free to take home...
As co-writer, Benigni (with Vincenzo Cerami), doesn't just mix drama and comedy, he often hides drama in the comedy. The film does not dwell on the horrors of the camp, nor does it ignore them...With a memorable score by Nicola Piovani, "Life Is Beautiful" is an important film, triumphant, timeless, and sublime... It manages to entertain, educate, and move with its potent combination of humor, poignancy, and dignity... Roberto Benigni has taken pure horror and turned it into a love story between a man and a woman, between a father and his son… As an actor, Benigni manages with his wise and simple performance to make us laugh in tragic situations… He was very realistic, natural, distant from great special effects, far from Hollywood style, only nice and beautiful cinema... 10/10
1 Comment:
4 de janeiro de 2010 às 10:59

 

Your blog keeps getting better and better! Your older articles are not as good as newer ones you have a lot more creativity and originality now keep it up!
Mensagem mais recente Mensagem antiga Página inicial