Published by Cinema Experts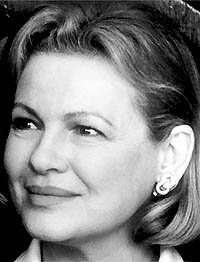 "My first meeting with Woody Allen lasted 30 seconds. He looked at me, said hello, asked someone to take a Polaroid, thanked me very much and I was shown the door. When I came out, the woman due after me was still doing the same thing as when I went in. She was shocked - 'What happened?' But that's how it is. My agent had warned me. Not hers. She was stunned."
Wiest was born in Kansas City, Missouri to a father who was a college dean and former psychiatric social worker for the U.S. Army, and a mother who worked as a nurse. Wiest's original ambition was to be a ballerina, but in late high school she switched her sights to acting in theatre. She made her film debut in 1980, but did not make a name for herself as a film actress until teaming up with Woody Allen during the 1980s.
Wiest's early career was in theatre. She studied theatre at the University of Maryland but left after her third term, in order to tour with a Shakespeare troupe. She worked at the Long Wharf theatre, understudied off-Broadway in Kurt Vonnegut's "Happy Birthday, Wanda June." And then made her Broadway debut in Robert Anderson's "Solitaire/Double Solitaire," taking over in the role of the daughter. She then went to work at Arena Stage in Washington, D.C., and became one of their most prized leading actresses, appearing in many plays including a memorable Emily in "Our Town," Honey in "Who's Afraid of Virginia Woolf," and leading roles in "The Dybbuk," "The Lower Depths," and "Heartbreak House." She also toured the USSR with the Arena Stage Company.
In 1976, Wiest went to the Eugene O'Neill National Playwrights Conference and played leading roles in Amlin Gray's "Pirates" and Christopher Durang's "A History of the American Film." Shortly after that, she left Arena Stage, and performed more in New York City. At Joe Papp's Public Theatre she took over the lead in "Ashes," and played Cassandra in "Agamemnon," directed by Andrei Şerban. She was in two plays by Tina Howe, "Museum" and then "The Art of Dining." In the latter play Wiest was deeply hilarious as the shy and awkward authoress Elizabeth Barrow Colt, and she won every off-Broadway theatre award for her performance: an Obie Award, a Theatre World Award, and the Clarence Derwent Award, given yearly for the most promising performance in New York theatre. In early 1980, she appeared on Broadway in Frankenstein, directed by Tom Moore, portrayed Desdemona in Othello opposite James Earl Jones and Christopher Plummer, and co-starred with John Lithgow in Christopher Durang's romantic screwball comedy Beyond Therapy, directed by John Madden. Also in the 80s she was acclaimed for her performances in Hedda Gabbler, directed by Lloyd Richards at Yale Repertory Theatre, and in Harold Pinter's A Kind of Alaska, Janusz Glowacki's Hunting Cockroaches, and Lanford Wilson's Serenading Louie.
Once her film career took off with her work in Woody Allen's films, Wiest was available to the stage less frequently, though she performed in the 1990s in "In the Summer House," "Square One," Cynthia Ozick's "The Shawl," and Naomi Wallace's "One Flea Spare." In 2003 she acted on Broadway with Al Pacino and Marisa Tomei in Oscar Wilde's "Salome." And in 2005 she starred in Kathleen Tolan's "Memory House," and then at Lincoln Center in the late Wendy Wasserstein's final play "Third," directed by Daniel Sullivan.
Under Allen's direction, Wiest won an Academy Award for Best Supporting Actress, in Hannah and Her Sisters (1986). She followed her Academy Award success with performances in The Lost Boys (1987) and Bright Lights, Big City (1988) before starring with Steve Martin, Mary Steenburgen, Jason Robards, Keanu Reeves and Martha Plimpton in Ron Howard's Parenthood, for which she received her second Oscar nomination.
In 1990, Wiest starred in Edward Scissorhands. She returned to Woody Allen in 1994 for Bullets Over Broadway, a comedy set in 1920s New York City, winning her second Best Supporting Actress Oscar for her portrayal of Helen Sinclair, a boozy, glamorous, and neurotic star of the stage. She appeared in the film Practical Magic (1998) and the television mini-series The 10th Kingdom (2000). From 2000 to 2002, Wiest portrayed Nora Lewin in the long-running NBC crime drama Law & Order.
0 Comments:
Mensagem mais recente Mensagem antiga Página inicial